There is always that subject that leads to a huge argument when brought up. In the gaming world, it is PES vs FIFA. In the world of soccer, there is always the battle of who is better between Ronaldo and Messi. Lastly, there is still some argument as to how the earth is shaped – flat or spherical.
The earth isn't flat, you know this fact, I know it, and about ¾ of the world knows this. Sadly, there are the ¼ remaining that would always flare up whenever the topic comes up demanding clear evidence that proves the earth's surface isn't flat. These are the flat-earthers and while you might never have an encounter with one, it pays to know how to reason them when the time comes.
Naturally, when the argument erupts and proofs are demanded from you, your go to would be the countless photos taken from space of earth or the words of the brave individuals who have been to space known as astronauts. However, all these could be dismissed with a simple "You haven't been to space yourself" or a "You haven't seen the spherical earth"
You might then get aggravated and bring out the big guns you don't know much about (except if you are some sort of mad scientist). You talk about other proofs that suggest we live in a spherical world, things about the eclipse, day and night, and even that theory about a ship. But like I said earlier, except you are some form of mad scientist, you don't have an in-depth knowledge of what you are talking about. The flat earthers know this and have something to refute every claim you make.
How then do you then reason with this people? Epistemic Contextualism is how!
How It Works
To perfectly understand this term and how it works, you need to understand the context shifts and how they can affect the entire meaning of a sentence. Take the sentence "I am the most handsome man in the room", before you go ahead arguing as to the authenticity of the statement, you should know the context in which it was used. If I were in a room filled with ogres and aliens, the sentence is most likely true. However, if I were to be in a room filled with the likes of Chris Hemsworth, Zac Efron, etc. the context shift won't make the statement true anymore. So rather than doubting my facial outlook, you should think of the context in which the statement was made.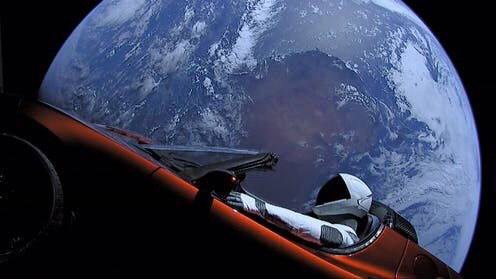 Epistemic contextualism says that knowledge is the same. Picture you reading for an arithmetic exam and you come across a simple question (12+5), you know the answer is 17, you do the maths in your head and go on about your business. Imagine being in the exam hall the next day and you come across the same question, you do the maths in your head but this time you also do it on your calculator just to be sure. Nothing about you changed but the context did. During the exam, the stakes are higher, you know a mistake would be costly, so the doubt that you no longer have the knowledge sets in.
Reasoning with Flat Earthers
I believe flat earthers use the same trick on us. They are right that you don't know for a fact that the earth is round. However, they are only right in a context where glaring proofs and evidence are disregarded. A context where words of astronauts who have been there and done that mean nothing, where widely published and accepted scientific facts are dismissed, and where photographic evidence is ignored.
What they don't seem to realize though is the fact that judging by that context where nothing asides physical proof matters, they also have nothing to prove that the earth has a flat surface. Thus, in this context, we all know nothing about the shape of the earth and should just conclude that it is what it is.
If you can successfully bring them to the normal context where evidence and words of professionals are taken seriously, you would have them beat. It is quite simple really if you do not believe in the conclusion came about by scientists regarding the shape of the earth, why do you believe they are right when it comes to medical aspects?
Conclusively, whether or not you know if the earth is spherical in shape depends on context. In the everyday context where normal things are considered normal, you do know that the earth has a sphere shape.